Potato Express Microwave Bag
UK Delivery From £3.95
UK Delivery Within 4 To 8 Business Days*!
Spend £50+ For FREE UK Delivery!
100% Safe & Secure SSL Checkout!
Why The Potato Express Microwave Cooking Bag Is A Must Have:

Easily Make Baked Potato's In The Microwave!
Taste As Good As Oven Baked Potato's!
Cooks Up To 4 Potato's At Any One Time!
Uses Steam Pocket Technology To Cook With Ease!
Healthy - No Need For Fat Or Oil To Be Used In The Cooking!
Quick & Easy To Cook - Perfect When You Are On The Go!
Washable & Reusable! Great If Your Trying To Watch The Pennies!
Can Also Be Used To 'Freshen' Up Stale Bread!
100% Safe - Microwave Safe!
Made From High Grade, Food Safe Materials.
Online Exclusive - Not Currently Available On The High Street!

30 Days Money Back Guarantee - Buy With Complete Confidence!
---
About The Potato Express - Kitchen Gadget:

Are you after a healthy snack or starchy meal in minutes?! Maybe you are someone who works long hours and simply wants to relax when you get home. Or possibly you are head of the cooking in a large household, desperately searching for a healthy, filling quick meal fix for your hungry clan. If this sounds like you, then allow the Potato Express to solve your cookery problems!

The Potato Express easily accommodates up to 4 large baking potato's into its handy, cooking pouch. If your potato's are a smaller, salad size, more will fit in the pouch with ease. To begin the process simply wash your potato's then place them directly into the potato express bag - its that simple!

Designed to offer a super quick alternative to traditional oven baked potato's without loosing any taste or texture! Once ready, pop your potato express pouch into the microwave and heat on full power for 4 minutes. After this time simply take the bag out of the microwave and carefully open.

Remembering to be careful (we recommend using tongs to remove the potato's as they will be hot) remove your baked potato's from the potato express and serve.

The Potato Express works by using steam technology to cook each potato perfectly! Designed to be an insulated steam bag which cooks evenly - other forms of root vegetable can also be cooking with ease. Yams, sweet potatoes, even stale bread can be revived by using the Potato Express bag!

The duo layered technology found within the Potato Expresses design allows potato's to be cooked using their own moisture. Using this method of cooking also lends to a much more healthier lifestyle. There is no need to add oil, fat or even water to the bag. Since the Potato Express has been created with double the insulation, steam is naturally trapped inside the bag causing an immense pocket of heat. This causes your potato's to cook quickly with perfect results every time!

Food is transformed in no more than 4 mins, from raw to light, fluffy and extremely desirable and tasty! Grab your Potato Express today and gain extra time to relax, work or play every time you choose to use it.

Features Included:

Cleaning care: machine wash cold
Capacity: Up to four medium-sized potatoes
Colour: Red
Materials:Shell fabric: 100% Polyester. Lining: 85% Polyester, 15% Cotton. Polyfill: 100% Polyester.
Set includes: 1 x Potato Express, 1 x Recipe Guide
Sizes: Pack: 21.5x2x27.5cm, Product: 19.5x2x25cm
Weights: Gross: 140g / Net: 80g
Please note colours may differ from ones shown in pictures.
Comes un-boxed.








---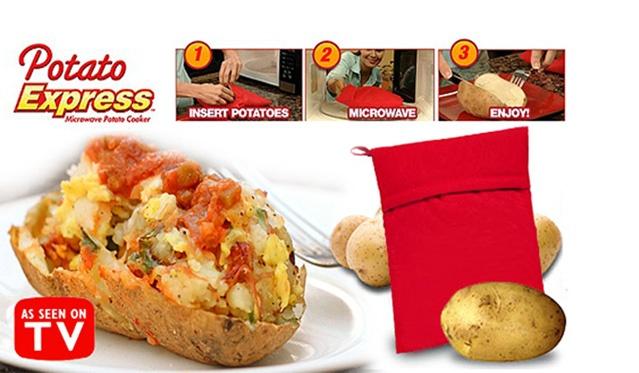 ​​​​​